Warning
: A non-numeric value encountered in
/home/customer/www/europeanguitarbuilders.com/public_html/wp-content/plugins/shortcodes/shortcodes.php
on line
296
Luthiers and/or instruments that should not be forgotten....
There is something special about the guitar. No other instrument has taken so many forms or generated so many manifestations. Over the years much of this wild tapestry of inventions has been overshadowed by the dominance of a few models and types in the pantheon of the public mind. A single moment in the approximate middle of the last century has become the point of reference of guitar-historical orthodoxy, with Leo and Ted as both its prophets and saints. But lurking beneath this veneer of a few, mostly American-made models which have come to signify the final embodiment of the guitar, there is a parallel universe full of color, full of wonderful diversity. A world well worth exploring and discovering.
While The Holy Grail Guitar Show is all about presenting the newest developments and achievements in the field of lutherie, we should not forget about the guitar makers who have come before us. We build on their shoulders, taking advantage of the breakthroughs and discoveries they have made, and we want to honor them and remind ourselves that much of what we accomplish today would not have been possible were it not for what they have bequeathed on us.
The EGB Historical Project shines a light on guitar makers of the past who have contributed to the development of the guitar, who have excelled at their craft and who should be remembered. As an EGB project, the focus also lies on reclaiming the history of the guitar in Europe.
Each year, the EGB Historical Project Table at The Holy Grail Guitar Show will display examples of one such guitar builders' work.
Kalamazoo Gals
Among the great number of guitar makers today there are relatively few female luthiers. Making guitars, just as strutting the stage with them, seems to be, and to always have been a predominantly male domain. Or is it?
If one thinks about a guitar hero or star, it is mostly men we think of, and the same goes for guitar makers. But a recent survey found that 50% of first-time guitar buyers today are women. There is an exploding online community of women players, and increasing numbers of women are becoming interested in lutherie as well. We've taken this as a cue to highlight a presence which is not generally acknowledged or represented well.
John Thomas became fascinated with the history of the so-called 'Gibson Banner' guitars produced during the 2nd World War. Their unique sound and the fact that there seemed to be distinct differences in construction versus the pre-war and the after-war Gibsons piqued his curiosity, and he decided to visit Kalamazoo, to see if he could speak to some of the people working at Gibson during that time. His journey revealed a past that is still shrouded in some controversy – he spoke to some of the women who actually worked on the 'Banner' guitars and documented the war-time production of these guitars, made by women, as the men were off to fight a war.
We decided that this would be an excellent fit for the EGB Historical Project this year, as we highlight the role of women both in the making and the playing of guitars.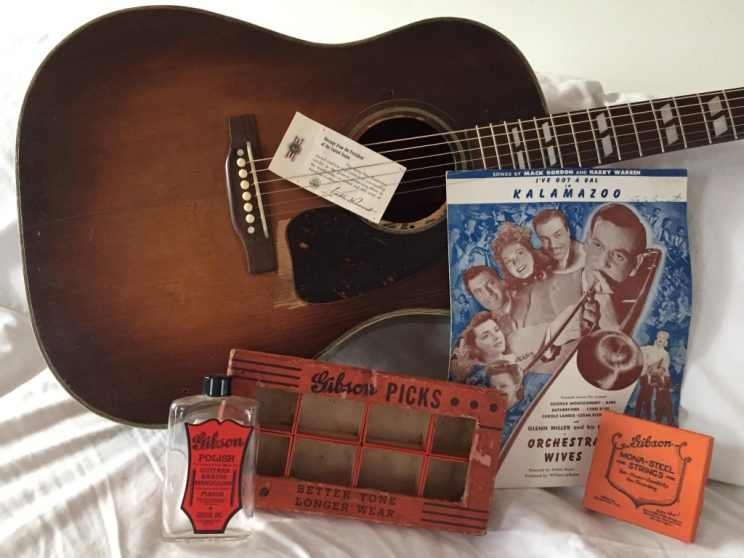 "It was the worst of times and, well, really just the worst of times. Just before the holidays, we had suffered a devastating attack on our shores. Evil incarnate was swallowing Europe. But, life went on and a purveyor of musical instruments, certainly the most frivolous of goods at this point in history, decided to embrace the future and produce a whole new line of guitars. It was a moment in history when superlatives trivialized our ultimate goal simply to survive. So, the manufacturer, the Gibson Guitar Company of Kalamazoo, Michigan, adopted a modest slogan that trumpeted the "good enough."
Given Wartime raw materials restrictions, Gibson had to resort to improvisation, the scrap heap, and a "nearly all" female workforce. But, the company swallowed its pride, whined in private about the burden of the gender of its crew, and denied in public that it was doing what it must do both to survive the cataclysmic challenge of the times and to try to maintain its reputation as a maker of fine musical instruments. So, while the company commissioned advertising art promising that it would await the return of "the boys" before producing another instrument, it reluctantly and perhaps under the cover of darkness shipped out some 10,000 girl-made guitars. It graced the headstock of each of those guitars with a small, golden, silkscreened banner emblazoned with "Only a Gibson is Good Enough." When those boys did return home to retake most of the jobs held by women, good enough apparently became insufficient and the banner disappeared. "
John's book uncovers the story that that Gibson itself denied for decades and continues to deny to this day.
Kalamazoo Gals: A Story of Extraordinary Women and Gibson's 'Banner' Guitars of WWII (American History Press, 2013), a book by John Thomas.
John Thomas is a fingerstyle guitar player, law professor at Quinnipiac University School of Law, and field editor & contributor to Fretboard Journal magazine.
Johann Georg Stauffer (1778-1853)
Around the beginning of the 19th century Vienna was a major center for both guitar composition, performance and for the craft of lutherie. A veritable guitar-craze fueled a lively scene of guitar makers, with Stauffer emerging as one of the most inventive and skilled, certainly as the one with the greatest historical impact on the development of the modern flat-top guitar - his legacy was carried on and amplified by his apprentice C.F. Martin. Many of Stauffer's beautiful and original designs still carry a high level of relevance today and can be found on many modern instruments. We are very pound to be able to show a selection of original Stauffer instruments at this year's EGB Historical Project Table.
Dr. Stefan Hackl , guitarist, teacher and researcher, is the co-author of the book Stauffer &Co, a massive tome about the Vienna guitar maker's scene of the time. He presented his book along with Stauffer guitars he has generously agreed to share with us, and also gave a lecture about the redoubtable guitar maker.

Antonio Wandrè Pioli (1926-2004)

There have been a lot of colorful characters among guitar makers, foremost among them Wandrè. Guitar maker, artist, architect and visionary, he built his experimental round factory in Cavriago, Italy, based of his ideas about workflow and social interactions between workers. He developed a unique aesthetic approach to guitar making, subsequently translating it into singular manufacturing processes and designs. His whole life is a "Gesamtkunstwerk", the boundaries between his art, work and life remain blurred and indistinct. Wandrè is a true original – he owes almost nothing to his predecessors. His instruments are the unique expressions of a fertile imagination striking out into virgin territory. It is surprising that his instruments, which today would never even make it into the market due to their idiosyncratic construction and appearance, had such a successful run and were widely accepted. Marco Ballestri, author of the wonderful book "Wandrè, Artist of the Electric Guitar", has kindly provided us with some of Wandrè's fabulous instruments for the historical table display. Marco's passion for all things Wandrè and his knowledge and research have contributed greatly to a resurgence of interest in, and appreciation of Wandrè's genius – Marco presented a lecture about Wandrè, and his book was available at the EGB Book Club Table.